Simul8
Overview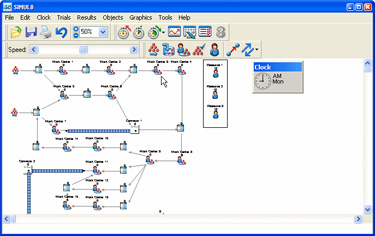 SIMUL8 is an integrated environment for working with simulation models. It enables you to create accurate, flexible and robust simulations quickly.
Highlights
Easy to Use
SIMUL8 is the easiest to use business simulation software.

SIMUL8 comes with everything you need to start building simulations straight away. The context sensitive Help make it easy to find answers to questions about SIMUL8 features. You can get simulation help from SIMUL8's unique simulation assistant.
Powerful
SIMUL8 Corporation have used industry leading software developers to build a business simulator capable of the most detailed simulations.

SIMUL8 was first used in industry in 1995. It is now used by thousands of engineers in enterprises such as Ford and Hewlett Packard (and many smaller organizations too) to make hundreds of important decisions year on year.
Supported
SIMUL8 is supported to the highest standards. The SIMUL8 entitles you to free feature support for the life of the version when you register. Many resources are available to help you build your own simulation.
© MultiCIM Technologies inc. 2012