ABC Planner™
Featured Links
Software Description
ABC Planner is the newest of our planning and scheduling family of tools. It combines an easy-to-use interface with a powerful and original simulation engine built upon AutoMod. ABC Planner is oriented towards production planning and cost analysis; it combines the benefits of Activity Based Costing (ABC), Time Based Management (TBM) and simulation-based planning into one easy-to-use decision-support tool that takes into account the actual finite capacity and availability of resources, people and products.
The following are the main features of ABC Planner :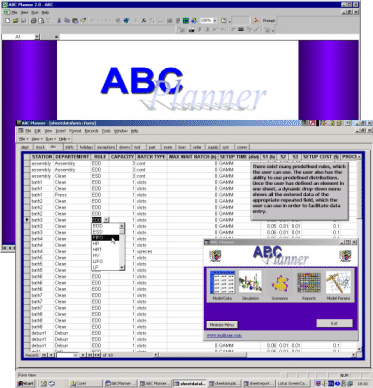 Multilingual interface
Tailored headers and messages
Modeling of production resources (machines,
workplaces, operators, tooling)
Production maintenance and break calendars
Lot, batch, continuous and assembly production
Detailed multi-level bill-of-material (BOM)
Data exchange with the company databases
Detailed performance reports
A selection of more than 300 performance
measures and statistics available
Production schedules
Inventory and utilization graphs
Production cost per unit produced, machine, department...
ABC Planner is a versatile tool that can be adapted to the industry or services (banks, hospitals, etc.) and is aimed at managers willing to :
Create short term schedules and long term production plans
Make an estimation of cost in their supply chain
Perform dynamic analysis of business scenarios
Identify and estimate the needs for additional resources in the planning horizon
© MultiCIM Technologies inc. 2012