CODESOFT
Software Description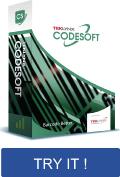 CODESOFT bar code label design software allows you to easily integrate bar code label printing into your business environment, dramatically enhancing both efficiency and control. Whether you need to print text, bar codes, or graphic images, fixed or from databases, you now have an enhanced level of connection, administrative security, and programming capability.

CODESOFT supports over 110 multi-dimensional/2D and linear bar codes, including GS1-128, Data Matrix, QR Code, UCC/EAN, and SSCC. Supports ISO and UID standards.

Download a fully functional demo for 30 days or 100 executions.
Features of CODESOFT 9 ®
Completely redesigned – you can now create labels in half the time!
Wizards for database connections, table lookup, formulas, bar codes, images, documents, templates, and more
View labels and data in the same screen
Easily create complex bar codes such as GS1 Databar and HIBC using the wizards
Create simple or complex database queries (SQL) in a graphic editor
Advanced integration features (choose between .NET wrapper and ActiveX for custom integration)
Support for Microsoft Windows 7 and Server 2008
Free 3-month Software Maintenance Agreement included with every purchase
© MultiCIM Technologies inc. 2012